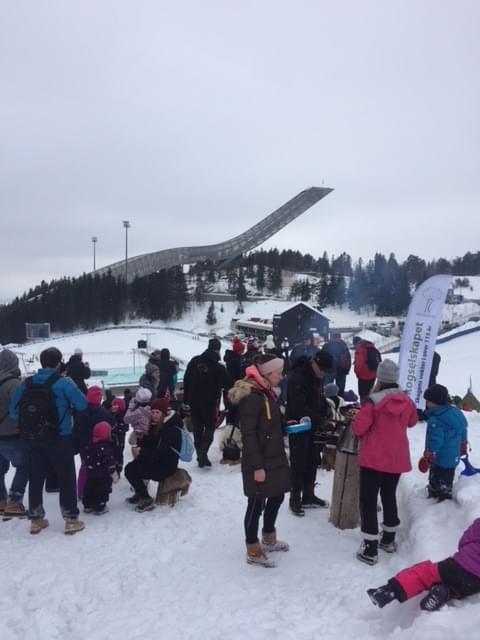 Holmenkollen Skifestival 2018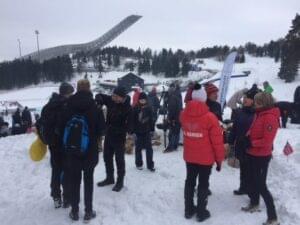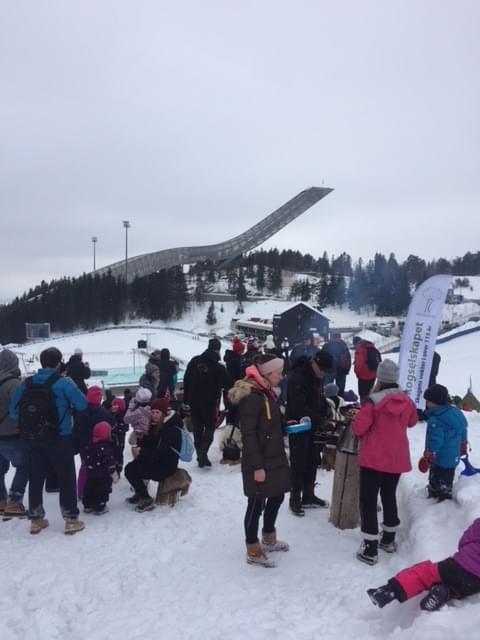 9. og 10. mars var det duket for storinnrykk av publikum i Holmenkollen – for langrenn hopp og kombinert. Skogselskapet var på plass i Kapellskogen for å snakke fram skogen, skape trivsel og servere varmt drikke til frosne publikummere. Rundt bålpannene våre samlet det seg som vanlig mange mennesker begge de to arrangementsdagene.
"Fotosyntesen i revers"
I tillegg til bålpanner har vi med oss et lite "biokraftverk" i form av en ovn kalt Biolite. Denne fungerer som en vedfyrt grill og kokeapparat. Det spesielle er at den også konverterer varme til elektrisk energi som lader et batteri. Batteriet gir strøm til en lampe og det er mulighet for å lade mobiltelefonen. I tillegg driver batteriet en liten vifte som sørger for optimal tilførsel av luft til forbrenningen. Resultatet er tilnærmet fullstendig forbrenning og ingen røyk. Ovnen tiltrekker seg oppmerksomhet og gir i tillegg muligheter for samtaler med folk om skogens rolle i klimasammenheng. Det er til og med noen blant publikum som forstår at varmen fra veden er "gammel solenergi" som har vært lagret i veden og som vi nå slipper løs igjen, sammen med CO2 som er grunnlaget for ny oppbygging av trevirke gjennom fotosyntese.
God stemning
Holmenkollen Skifestival fikk en del negativ pressedekning etter ting som inntraff lørdag kveld. Vi kan underskrive på at det rådde kaos når 100 000 mennesker skulle ta seg fra Holmenkollen til Oslo sentrum. Mange av de som bidro til kaos hadde tilbragt dagen i skogen ved Frognerseteren og ikke inne på arenaen i Holmenkollen der vi tilbragte de to dagene. I Kapellskogen var det den gode stemningen som rådet. Her var det trygt for familier å være og det var vinteraktiviteter for barna. Og Skogselskapet, selvfølgelig, som bidro med varme til store og små.
Fin plassering
Fra vår plass i Kapellskogen kunne publikum se skiløperne mange ganger i løpet av herrenes 5-mil og kvinnenes 3-mil. Løypene i Holmenkollen er litt "spagetti" i sin utforming, de går over og under og rundt hverandre og blir dermed svært publikumsvennlig, samtidig som store høydeforskjeller gjør løpene krevende for utøverne. Så er det også gjerne de beste som vinner.
https://skogselskapet.no/wp-content/uploads/2018/03/IMG_5514.jpg
640
480
admin
https://skogselskapet.no/wp-content/uploads/2019/04/Logo-Skogselskapet_side-300x165.jpg
admin
2018-03-12 22:13:53
2018-03-12 22:22:15
Holmenkollen Skifestival 2018